May 19, 2015



Lee Byung-hun moves into new high-security home



Korean actor Lee Byung-hun and his family have reportedly moved into a new expensive home in Seoul's Samseong-dong.

The secret relocation was reported Tuesday by a local news reporter, who claimed to have read a certified copy of the real estate register.

Lee and his actress wife Lee Min-jung are said to have jointly registered their new residence on April 28 with a prepaid lease of 2.5 billion won ($2.3 million).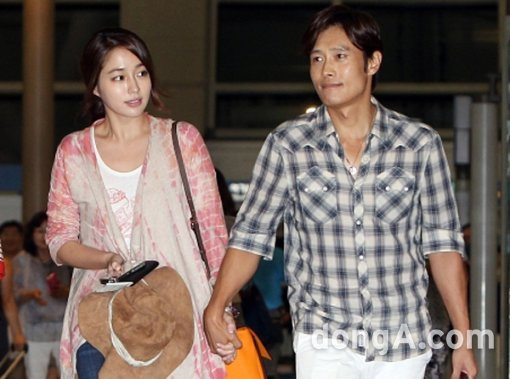 The report cited a real estate agent, who said that Lee and his family had already moved into their new high-security residence.

Lee's new home is said to be in a popular area among stars, strategically located for ease of transportation and known for its airtight security, according to the report.

Lee married actress Lee Min-jung, who was a celebrated star in her own right, in 2013 and welcomed their first child, a son, on March 31.

Lee Byung-hun recently flew to the U.S. ahead of his filming schedule for an upcoming Hollywood remake of the western film "The Magnificent Seven." Another Hollywood film starring the actor, "Terminator Genisys" is scheduled for release this July.

By Yoon Sarah (sarah356@heraldcorp.com)



Lee Byung Hun and Lee Min Jung reportedly move into Jang Dong Gun and Ko So Young's old home



Source: KpopFighting![/




It has been reported that Lee Byung Hun and his wife Lee Min Jung have moved to a new home situated in Samseong-dong, Seoul.

Lee's agency, BH Entertainment, revealed, "Their new home is closer to Lee Min Jung's parents house. The two decided to move because of child-rearing and work reasons."

It was also rumored that the couple's new home was the old home of fellow celebrity couple of Jang Dong Gun and Ko So Young, but Lee Byung Hun's agency has revealed that they were unaware of that.

By: Alvin
Copyright@KpopFighting.com

May 18, 2015



Lee Byung Hun and Lee Min Jung Move into Jang Dong Gun and Go So Young's Old Home



Soompi

According to Lee Byung Hun's management agency BH Entertainment, the actor and his wife Lee Min Jung have moved into fellow A-list couple Jang Dong Gun and Go So Young's home in Samseong-dong, Seoul.

A BH Entertainment representative told OSEN, "They moved in April, and they decided on the move for work and childrearing-related reasons."

Since the birth of his son in late March, Lee Byung Hun has been busy going back and forth between the United States and Korea for filming. The actor is currently working on a number of Hollywood films, including "Terminator: Genisys," which is slated for a July release, and "The Magnificent Seven."



#MothersDay #LeeMinJung #LeeJoonHo #Family