Related captures from various sites & fan-sharing at EverythingLBH and LBH-soompi.com

Check out more photos compiled at our Gallery & Related updates here / here / here / here

EverythingLBH.com thanks every fan-sharing ardently with our utmost gratitude

August 15, 2010



KIA K7 'More than Prestige' feat. Lee Byung Hun





Thanks to the highlight at GBW cafe.daum 6188 l Original Streaming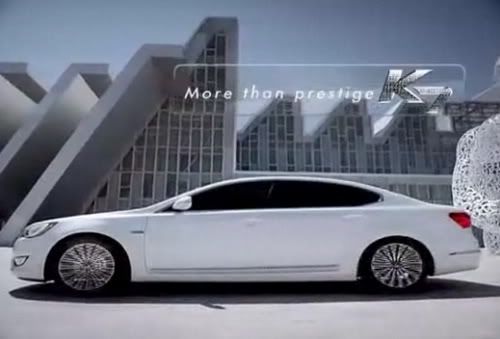 June 20, 2010



Popular new cars boost Kia Motors



By Choi He-suk The Korea Herald

Kia Motors Corp. is giving the country's dominant carmaker Hyundai Motor Co. a run for its money in the domestic market.

Fueled by the popularity of recently launched vehicles such as the mid-sized sedan K5 and the compact sport utility vehicle Sportage R, Kia's share of the monthly domestic market rose to 34.5 percent in May.

Last month's figure is the second highest recorded since Hyundai acquired controlling shares of the company in 1998. The highest monthly market share for Kia since the takeover was 35 percent recorded in November 2008.

As its market share rises, Kia vehicles are eating into sales of rival models produced by the company's sister carmaker Hyundai Motor Co.

Last month, Kia's K7 full sized sedan outsold the Hyundai Grandeur by nearly 1,000 units, while the Sportage R compact sport utility vehicle also outpaced its Hyundai counter part by similar margins. With the launch of the K5 last month, Hyundai Sonata's monthly sales figure fell below 10,000 units for the first time since its launch last September.




Kia Motors Corp.'s K Series vehicles — K5 and K7 — that are leading Kia's rapid rise in the domestic market. (Kia Motors Corp) While Kia's monthly market share climbed, that of Hyundai declined to 42.4 percent, less than 7 percentage points ahead of Kia.

In comparison, Hyundai's market share stood at 50.1 percent in January, outpacing Kia by 21.6 percentage points. Although Kia is making headway in narrowing the gap with its larger affiliate, experts say the chances of Kia overtaking Hyundai are unlikely. "Kia could overtake Hyundai temporarily, as the follow up models for Hyundai' s Avante and Grandeur have yet to make their debut," said HMC Investment Securities analyst Kang Young-il.

"In the long term, while the gap between the two will be reduced it's unlikely that Kia will overtake Hyundai. The two companies are on a different scale, and in terms of sales network and (production) capacity Hyundai has the upper hand."

While Kia may not push Hyundai off the top, recent developments have proven popular with investors. Kia shares shot up from 20,800 won on Jan. 4, the first day of trading this year, to 31,900 on Friday, a rise of 53.3 percent.

Over the same period, Hyundai shares rose by a comparatively low 21.4 percent from 119,000 won to 144,500 won.

Kia is not, however, worry-free. Unlike Hyundai's union that seems to be taking a softer approach in its dealings with the management, Kia's labor union appears to be taking as hard a line as ever.

Last year, Hyundai's union elected a moderate figure to lead the union and reached an agreement in the year's collective and wages negotiations without resorting to strikes for the first time in 15 years.

In contrast, Kia's union appears to be as uncooperative as ever.

Last year, the union dragged on the wages negotiations demanding that its members be compensated on similar terms as those of Hyundai, whose sizeable bonus included incentives for refraining from taking industrial action in last year's negotiations.

Kia's union on the other hand staged walkouts for the 19th consecutive year.

Six months into the year, trouble may again be brewing at the company. In April, the union put forward demands for this year's collective negotiations that include a number of clauses that directly violate the new labor union laws that will take hold from next month.




One of the most significant changes the revision will bring is a drastic cut in the number of union officials eligible to receive full pay without taking part in production processes.

At present, the company has 181 such individuals on its payroll, but the figure will be reduced to 18 once the new laws take effect.

However, the union is demanding that the company maintain the number of paid full-time union officials at current levels, and that the company cover the salaries of office staff hired by the union to conduct union affairs. "The law will be changed, and it is very unlikely that we can concede, and the company's position is that the issue is not ours alone so should not become an issue in this year's collective negotiations," a Kia official said.

As the company shows no sign of budging, the union has halted Saturday production beginning in June in protest of the company's refusal to accept its demands concerning full-time union officials.

According to Kia, about 5,400 vehicles can be produced if all its domestic facilities are run on a Saturday with two 10-hour shifts. With the union having refused to work on Saturdays since the beginning of the month, the company has suffered over 10,000 units in lost production.

"The waiting period for the K5 is about six weeks, and that for the K7 is roughly two weeks," a Kia official said. "The daily K5 and K7 output is about 600 units, and as around 70 percent of which is the K5, K5 production is reduced by 400 or so vehicles for each Saturday without production."

The union's leaders have also put the possibility of staging strikes to a vote. The votes will be cast next week, and decide whether the union can use walkouts to gain leverage over the management in this year's negotiations.

Aside from such sensitive issues, Kia union has made somewhat outlandish requests such as asking to be paid while watching the Korea-Argentina game last Thursday. Although the company refused and most facilities operated as usual, the request was in stark contrast to developments at other local carmakers.

Hyundai and GM Daewoo Auto and Technologies Co.'s facilities operated as usual, and while Renault Samsung Motors Co.'s plant was halted for the game but the hours were made up with overtime.

March 22, 2010



Kia pits its K7 against Lexus in a sedan grudge match




Local car out to prove itself versus Toyota-made ES 350



By Moon Gwang-lip Korea JoongAng Daily



Lexus ES 350

An emerging Korea eclipsing Japan is a scenario that many here fantasize about, providing a sort of justice for that country's 35 years of colonial rule. Some might say that time is at hand. Korea has won international recognition as the next host of the G-20 Summit, while Japan's economy, the world's second-largest, continues to show little sign of growth.

Figure skater Kim Yu-na's record-breaking performance beat out archrival Mao Asada from Japan at the recently completed Vancouver Winter Olympics, and that turned out to be a microcosm for Korea's fifth-place finish in the gold medal count -far ahead of Japan at 20th. Now, as local automakers watch Toyota's fall from grace on the U.S. market, they're trying to make the most of the opening.

With the world's largest carmaker crippled by massive recalls that tarnished its long-pristine image, Hyundai Motor, Korea's largest automaker, and its affiliate, No. 2 carmaker Kia Motors, have recorded relatively solid performances even during last year's global slump on the auto market.

In what could only be seen as a bid to maximize its momentum against Toyota, Kia invited dozens of auto reporters to its plant in Hwaseong, Gyeonggi, last Tuesday and let them do a comparison test-drive on its latest - the K7 sedan - right next to the Lexus ES 350, manufactured by the Japanese behemoth.

The ES 350 is Lexus' best-selling model in Korea, while the K7 is second from top-of-the-line at Kia, right under the luxurious Opirus. A fully equipped K7 costs 42 million won ($37,080), only 62 percent of the price of a full-option ES 350 at 67.50 million won.



Kia K7

Kia has marketed the K7 as less pricey than the Lexus but more powerful - and they drove that comparison home with a straight-line drag race. Participating reporters got behind the wheel, one group in K7s and the other in Lexus ES 350s. I chose to drive an ES 350 and hit the accelerator as hard as I could at the starting signal, only to see the tail of the K7 speed ahead to the finish line.

Four 400-meter (1,300-foot) rounds were performed, and the K7 emerged the winner of them all. Of course, Kia is hardly an unbiased arbiter, but the company insisted nothing special had been added or removed from either car to tilt the race in the K7's favor. Toyota Korea had no comment on the stunt.

On paper, too, the K7 is stronger than the ES 350, which produces a maximum 277 horsepower to the K7's 290.




Local cars have for years been advertised as having more horsepower than their import rivals, but the poor quality of Korean transmissions kept them from winning in terms of actual acceleration. Kia's newly-developed six-speed transmission, installed on the K7, seems to have solved many of those problems.

The two cars were also put through their paces for other functions on a test course, and the handling and cornering of the K7 felt as good as the ES 350's. However, for a smooth ride, the Lexus was still king. The ES 350 simply absorbed bumps on the road much better than the K7, which felt rigid.