Related captures from various sites & fan-sharing at EverythingLBH and LBH-soompi.com

Check out the clips and more photos compiled at our Gallery

EverythingLBH.com thanks every fan-sharing ardently with our utmost gratitude

January 11, 2009



Lee Byung Hun at PD Yoon's Wedding



The wedding of PD Yoon Seok Ho (52) was held today - January 11, 2009. The celebrated and famously romantic PD who is most well known for his Season drama series (Autumn Tale, Winter Sonata, Summer Scent & Spring Waltz) finally ties the knot with his bride, Ms. Han Hye Soo (38).

Lee Byunghun has been known to be a close acquaintance of PD Yoon since the early 1990s especially when he had acted in the latter's drama series 'Tomorrow Love" (1992). We're so glad and happy to see Byunghun-ssi's appearance at the wedding today.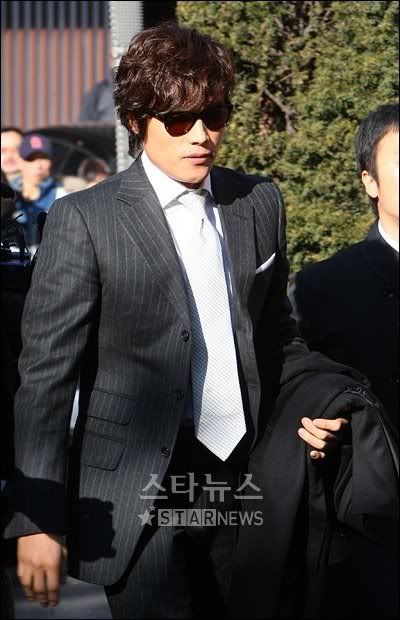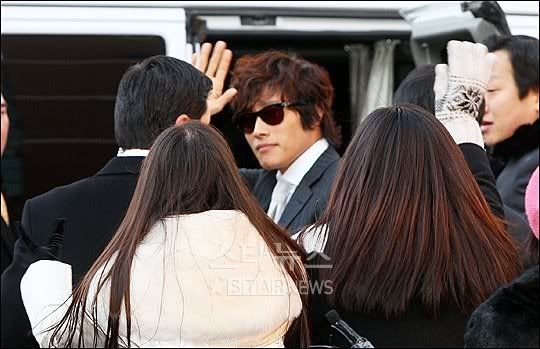 'Season' drama stars attend director Yoon Seok-ho's wedding



by javabeans Via Hankyung, dramabeans.com

Drama PD Yoon Seok-ho was married on Sunday, and wishing him well were, among others, the stars of his famed quartet of "season" dramas: Autumn Fairy Tale, Winter Sonata, Summer Scent, and Spring Waltz. (Although, really, only the Autumn and Winter dramas could be called successes.)

That includes Winter Sonata stars Choi Ji-woo and Park Yong-ha; Autumn Fairy Tale leads Song Seung-heon and Song Hye-gyo; Summer Scent actress Sohn Ye-jin; and Spring Waltz leads Han Hyo-joo and Daniel Henney.

The ceremony for the television-drama director and his hanbok-designer bride, Han Hye-soo, was held in Seoul on the 11th.

A notable absence was Winter Sonata star Bae Yong-joon, although a couple of his co-stars did attend. Some celebrities did the expected press pose-and-greet session outside, but a few like Song Hye-gyo kept themselves removed from the cameras as they made their way to the ceremony.

Song Seung-heon (East of Eden) wasn't one of the shy stars; the vast majority of the photos are of him, Sohn Ye-jin, and Lee Byung-heon:

Sohn Ye-jin (My Wife Got Married)
Lee Byung-heon (The Good, The Bad, The Weird)
Han Hyo-joo (Iljimae)
Park Yong-ha (On Air)
Seo Do-young (Unstoppable Wedding)
Choi Ji-woo (A Star's Lover), like Song Hye-gyo (The World They Live In) on the right, also kept at a distance and was only seen from the back:
Lee So-yeon (Spring Waltz)
Kwon Hae-hyo (Cain & Abel, What's Up Fox)

January 14, 2009



Stars and fans descend on southern Seoul cathedral as Yoon weds



Source: joongangdaily.com



Producer Yoon Seok-ho

The stars were out in droves for producer Yoon Seok-ho's wedding last Sunday.

The cathedral in Nonhyeon-dong, southern Seoul, where the wedding was held, was packed with stars who came to congratulate Yoon, 52, who tied the knot with Han Hye-soo, 39, a hanbok designer.

Yoon has produced many popular TV dramas, including "Winter Sonata," "Autumn Story" and "Summer Scent." Yoon joined KBS in 1985 and is currently managing his own drama company, Yoon's Color.

Some 200 fans from all over Asia - mostly from Japan - showed up at the wedding venue for a glimpse of their favorite stars, including actors Lee Byung-hun and Song Seung-hean and actresses Son Ye-jin and Song Hye-kyo.

Unfortunately, Bae Yong-joon from Winter Sonata and Won Bin from Autumn Story couldn't attend the wedding due to other engagements.



Director of Four Seasons Dramas marries



Source: MSN News, Naver News, Newsen via k-popped.com

Yes, he's the man who helmed the popular Four Seasons Dramas namely Spring Waltz (2006), Summer Scent (2003), Winter Sonata (2002) and Autumn in My Heart (2000).

Director-cum-producer Yoon Seok-ho (51) ties the knot with hanbok designer Han Hye-soo (38) on Jan 11. The lovebirds were introduced by friends a year ago. Today, they exchange their vows in a Catholic church in Nonhyun-dong, Seoul surrounded by friends and their loved ones.

The wedding guest list reads like a directory of Hallyu Stars, thanks to the very successful Four Seasons Dramas. Attending the wedding ceremony are Song Seung-hun and Son Hye-jin (Summer Scent) as well as Seo Do-young, Han Hyo-joo and Lee So-yeon (Spring Waltz).

Meanwhile, Song Hye-kyo (Autumn in My Heart) is seen speeding into the premises without appearing to the press. Choi Ji-woo is reportedly attending the event (but there are no pictures of her) while

Lee Byung-hun

is seen declining an interview with a reporter.

Many of today's Hallyu Stars owe their popularity - especially in Japan - to the Four Seasons Dramas. Bae Yong-joon (Winter Sonata) and Won Bin (Autumn in My Heart) are not able to attend the wedding due to their busy schedules.

Lee Byung Hun - Song Hye Kyo, same wedding different spaces

cox109@newsen.com/ noir1979@newsen.com via empas.com, thanks to Janice & chingu GK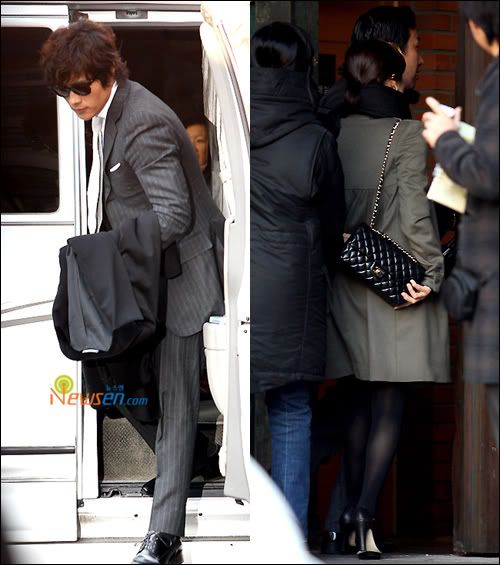 Ex-celebrity couple Lee Byung Hun and Song Hye Kyo attended PD Yoon Seok Ho's wedding which was held at 3 pm on January 11 at the Nonhyun Dong Cathedral in Kangnam.

Once a couple, Lee Byung Hun and Song Hye Kyo's appearence caught many guests and newsmen's attention especially when they arrived 15 min prior to the ceremony and entered separately 2-3min interval to the hall. Both Song and Lee hugged Yoon and congratulated the groom.