June 28, 2012

Thesps leave mark at Grauman's
Lee Byung-hun, Ahn Sung-ki have handprints, footprints cast
By VARIETY STAFF l Photos from star5.tistory.com




Korean thesps Lee Byung-hun and Ahn Sung-ki had their handprints and footprints cast in front of Grauman's Chinese Theater on Saturday. Ceremony was held as part of the Look East Film Festival in Hollywood, a two-day event that devoted its inaugural edition to a celebration of Korean cinema.

Fest honored uber-cinephile Pierre Rissient for his advocacy on behalf of Korean filmmakers, while helmers Kim Jee-woon, Lee Chang-dong and Park Chan-wook were on hand for screenings of their films "A Bittersweet Life," "Poetry" and "Thirst," respectively.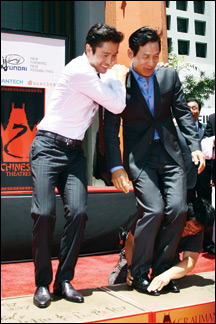 Lee Byung-hun and Ahn Sung-ki look for balance in Hollywood.




This is a wonderful sharing by the AmericanKpopfans via AKPFOFFICIAL who were at the Look East Film Festival recently on Press passes. Thanks so much for highlighting and sharing with us updates and lots of great photos from the event. We have been kindly contacted and informed via TimelessLBH, which we really appreciate the sweet gesture.



24-7KPOP EXCLUSIVE: Lee Byung Hun and Ahn Sung Ki Make History in L.A. [150+ Pics + Video]


Source: 4-7KPOP.com

24-7KPOP was present as press at The First Annual Look East Film Festival in Los Angeles on June 23rd! Many Asian stars came out to attend the festival and one of the high-lights: Korean actor Lee Byung Hun became one of the first Korean actors to immortalize his footprints and handprints on the Walk of Fame outside of Grauman's Chinese Theater. The actor, along with veteran Korean actor Ahn Sung Ki, greeted the crowd and smiled cheerfully (even playing around a bit), as they put their prints in the cement.

Later, Byung Hun had a press conference/Q&A session with director Kim Ji-woon, who directed Byung Hun in I Saw the Devil. Kim's next project will be Arnold Schwarzenegger's new movie, Last Stand. Both actor and director discussed their past work together, their regrets and experiences making movies, and what to look forward to in the future.

Once the sun started to go down, the Red Carpet event started, with stars like Grey's Anatomy's Sandra Oh and director Chang Dong Lee (Poetry)gracing the press core.

We will have more video to come within the next couple of days! Until then, enjoy some of our footage from the Q&A session!

Check out the cool compilation of super-Xlarge, super-clear great photos at the site (link provided) -- quite a number of Hunnie pics we've not seen before!

Click HERE for the pics and just go crazy!