Related Jdorama captures from various sites & fan-sharing at EverythingLBH

Check out more photos compiled at our Gallery

EverythingLBH.com thanks every fan-sharing ardently with our utmost gratitude
Diplomat Kuroda Kousaku 外交官・黒田康作
Gaikoukan Kuroda Kosaku 외교관 쿠로다코사쿠 (2011)



Title: 外交官・黒田康作
Title (romaji): Diplomat Kuroda Kousaku
Also known as: Gaikoukan Kuroda Kosaku
Format: Renzoku
Genre: Thriller
Broadcast network: Fuji TV
Broadcast period: January 13 – March 2011
Air time: Thursday 22:00
Episodes:
Viewership ratings:

Summary

This sequel to the movie Amalfi brings back Kuroda Kousaku, a diplomat who works at the Japanese anti-terrorism office. His new partner is Ogaki Rikako, a somewhat unreliable detective who loves onsen. The setting includes San Francisco, Mexico and Japan and the story also reveals Kuroda's past.

Cast

Oda Yuji as Kuroda Kousaku
Shibasaki Kou as Ogaki Rikako
Kagawa Teruyuki
Kaho
Tanaka Kei
Nishijima Takahiro
Iwamatsu Ryo
Hagiwara Masato
Kusakari Tamiyo (萩原聖人)
Kondo Masaomi
Katase Nana
Ohkura Koji
Tanaka Tetsushi
Kaga Takeshi
Konno Mahiru
Lee Byung Hun

Related links KOSAKUKURODA l asianmediawiki l fujitv.co.jp l kojaproductions.com l everythinglbh l everythinglbh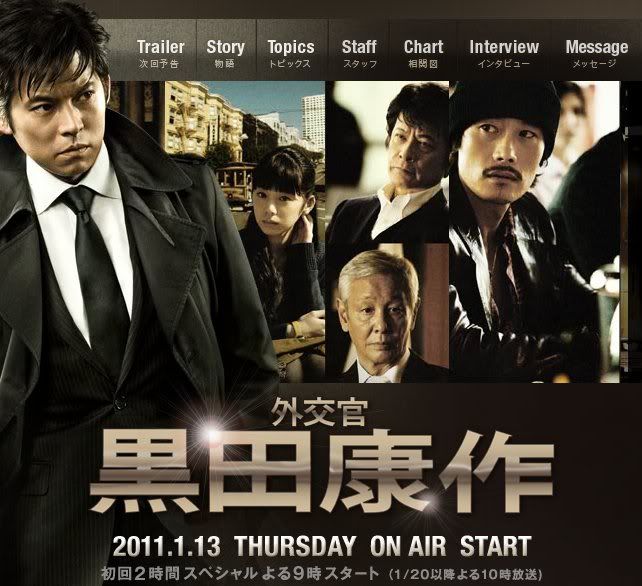 November 26, 2010

Lee Byung Hun to Appear in Japanese Drama
Source: KBS Global

Star actor Lee Byung Hun (40) will appear as a special guest actor in the Japanese drama "Diplomat Kuroda Kosaku," in which Japanese star actor Yuji Oda, who became popular through the drama "Odoru Daisousasen."

Lee Byung Hun's agency, BH Entertainment, said on November 25, "The drama 'Diplomat Kuroda Kosaku' will begin airing from January next year on Fuji TV. Lee will appear in a Japanese drama for the first time, and his appearance was decided by Fuji TV's ardent request." Fuji TV said, "The character that Lee Byung Hun will play is a very important character with strong impact. He holds a key to solving the case, so we had thought that actor Lee Byung Hun, who is actively performing all around the world and who has a strong and predominant image, might be the perfect actor for the character."

The drama "Diplomat Kuroda Kosaku," which had already been produced as a movie with the same title and gained huge popularity before, will be about mysterious cases happening to diplomats. Its recreation as a drama has become a hot topic with the appearances of Japanese star actors such as Yuji Oda and Kou Shibasaki, and the drama will add more episodes about the past story of the protagonist Kuroda and his honest emotions as a human being, which the movie could not fully present. Lee Byung Hun will play an old friend of Kuroda who is a Korean-American, and he will speak every line only in English. Lee Byung Hun said,

"I have been curious about the drama production process in Japan, and I found out that it was very similar to that of Korean dramas. I had thought that Japanese dramas have particularly unusual characters with unique jobs and peculiar personalities, and this drama is no different. This drama is not like an ordinary drama, so I am very excited."



November 25, 2010

Actor Lee Byung-hun to appear in Japanese drama
Reporter: Heidi Kim heidikim @ Editor: Jessica Kim jesskim @ Ⓒ All rights reserved 10Asia

Popular Korean actor Lee Byung-hun will make a special appearance in a Japanese drama set to go on air next year. According to Lee's agency BH Entertainment on Thursday, Lee will guest-star in Fuji TV's new drama "Diplomat Kuroda Kousaku," making it the first time he will take part in a Japanese series.

"Diplomat Kuroda Kousaku," a remake of a hit Japanese movie about a diplomat who solves mysterious cases while revealing the dark side to diplomacy, will have Lee appear as an old friend of a diplomat to be played by Oda Yuji, who himself is a top actor in Japan. Lee will be a Korean-American and speak all his lines in English.

Lee on Wednesday filmed the first portion of the drama set to air every Thursday at 10 pm starting January.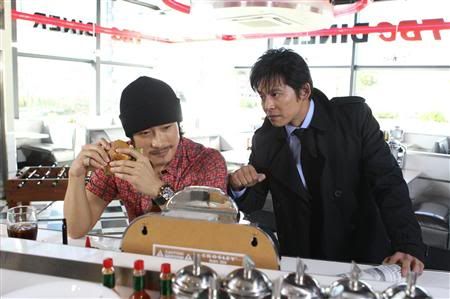 Lee Byung Hun and Yuji Oda in 'Diplomat Kuroda Kousaku' (November 24, 2010)