Related captures from various sites & fan-sharing at EverythingLBH

Check out more photos compiled at our Gallery 1 l 2 l 3 l 4 l 5 l 6 l 7

EverythingLBH.com thanks every fan-sharing ardently with our utmost gratitude
I SAW THE DEVIL 악마를 보았다 2010
One of a Kind Thriller by Kim Ji Woon




CLASH OF FIRE-LIKE MADNESS AND ICE-LIKE LUNACY


By HAN Sunhee cinematoday (August 10, 2010)

According to director KIM Jee-woon, I Saw the Devil is "a film that talks of a clash between fire-like madness and ice-like lunacy." Directing a total of five feature films starting from The Quiet Family to The Good, The Bad, The Weird, KIM had each time challenged himself to a different genre. Now for his sixth film, he has chosen a cold-blooded thriller. The screenplay written by PARK Hun-jeong, who also wrote The Unjust and directed The Showdown, was first suggested to KIM Jee-woon through actor CHOI Min-sik (Old Boy). The rumor had spread fast it will be the most horrible and cruel story in Korean film history as far as 'violence' goes. As it was announced that the leading role will be played by CHOI Min-sik and LEE Byung-hun, the film instantly drew much attention from in and out of the country.

'Fire-like madness' from the film is the serial killer Gyeongcheol played by CHOI Min-sik, while 'ice-like lunacy' is Su-hyeon, National Intelligence Service agent played by LEE Byung-hun. Gyeong-cheol brutally assaults Su-hyeon's fiancé and dismembers her body. From rage and despair of failing to protect his own lover, Su-hyeon decides to get back at Gyeongcheol. Roving around Seoul and Gyeonggi-do in search of his enemy, Su-heyon feels he will not be satisfied with simply taking Gyeong-cheol's life. He wishes to return the fear and pain his fiancé had to go through in the cruelest and most persistent way. On their first encounter, Su-hyeon warns Gyeong-cheol, "Remember, it will only get worse." Gyeongcheol replies, "That's interesting. Bring it on."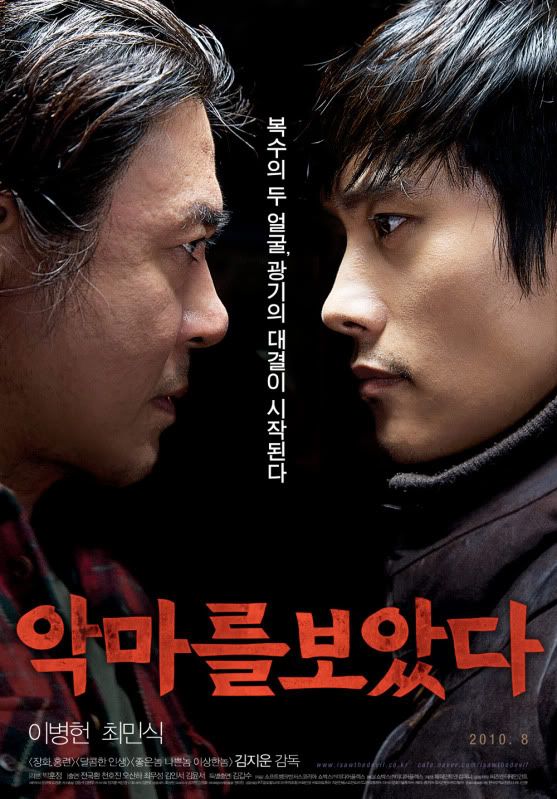 While KIM Jee-woon's previous films had focused more on the genre-specific styles rather than the characters, I Saw the Devil is expected to be a movie with outstanding powers of the actors that form an extreme contrast. CHOI Min-sik who announced his name to the world with Old Boy, had not appeared in any large scale mainstream commercial films for the last 5 years since he performed in Sympathy for Lady Vengeance. Having worked with CHOI 12 years ago in The Quiet Family, KIM Jee-woon praises CHOI as "the best actor to act a character like fire." In the new movie, CHOI Min-sik is prepared to become a devil wearing a human mask. Known as 'KIM Jee-woon's persona' for his performance in A Bittersweet Life and The Good, The Bad, The Weird, LEE Byung-hun acts an emotional and delicate man who's grieving his dead lover but who's at the same time a cold-hearted person putting down his anger and rage to fight against the evil.

There are many films of violence and revenge, but I Saw the Devil differentiates itself from other common stories of paybacks. In this film, revenge does not mean the victim moving towards the simple goal of finishing the perpetrator's life. In order to return the pain he had received, Su-hyeon controls his emotions and repeats clasping and letting go of the opponent. Instead of avoiding Su-hyeon's attacks, Gyeongcheol enjoys the situation and faces him squarely, and in that sense I Saw the Devil keeps up the tension through steady confrontation. The director describes the film religious as the evil is punished, and a story of suffering as it shows the pain of a man.

With its provocative and cruel expressions, perhaps I Saw the Devil will add its title to the 'Korean Extreme' list by overseas audiences. However ethical questions may be asked on whether such extreme punishment shown in the movie is in fact correct. To them CHOI Min-sik answers. "What is violence to humans? How is it expressed cinematically? Such points will entertain our audiences."




Director: Kim Ji Woon (The Quiet Family, The Foul King, A Tale of Two Sisters, A Bittersweet Life, The Good The Bad The Weird)
Starring: Choi Min Sik (Old Boy, Crying Fist), Lee Byung Hun (A Bittersweet Life, Joint Security Area)
Release date: August 12, 2010
Running time: 144 minutes
Country: South Korea




Film Festivals:
35th Toronto International Film Festival (Special Presentation Screening) 9-19 September, 2010
58th San Sebastian International Film Festival (In Competition) 17-25 September, 2010
15th Pusan International Film Festival (Midnight Passion Screenin) 7-15 October, 2010
43rd SITGES International Film Festival 7-17 October, 2010
AFI Fest 4 - 11 November 2010
London Korean Film Festival 6 November, 2010
Sundance Film Festival 20-30 January, 2011
18th Gerardmer Fantastic'Arts Film Festival 26-30 January, 2011
Glasgow Film Festival (Scottish Premiere) 2011
35th Hong Kong International Film Festival March 20 - 5 April, 2011
5th Asian Film Festival 21 March, 2011
31st Fantasporto Film Festival
BAMcinématek Severely Damaged: The Cinema of Kim Ji-woon February 25 - March 2, 2011
31st Fantasporto Film Festival February 21 - 6 March, 2011
13th Deauville Asian Film Festival 9-13 March, 2011

Awards
31st Blue Dragon Film Awards 2010 - Best Cinematography (Lee Mo Gae) / Best Lighting (Oh Seung Cheol) / Best Music Score (Mowg)
13th Directors' CUT Awards 2010 - Best Actor (Choi Min Sik)
18th Fantastic'Arts Film Festival 2011 - Prize of Young Jury / Public Prize / Critics Prize
31st Fantasporto Film Festival 2011 - Best Director Fantasy section (Kim Ji Woon) / Best Film Orient Express

Related links Official Website isawthedevil.co.kr l US ISTD l Magnolia Pictures l naver cafe l CINE21 l asianmediawiki l imdb l wikipedia l 35th TIFF l 58th San Sebastian l 15th PIFF l indieWIRE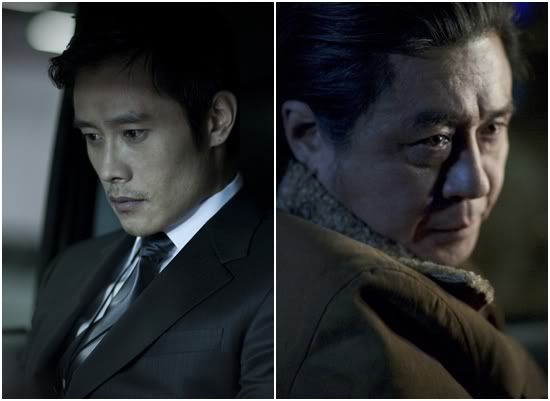 I Saw the Devil
Review by Scott A. Gray exclaim.ca


If you plan to see I Saw the Devil, you'd better have a strong stomach and a little sadism in your blood. Seldom have I heard an audience so audibly gasp, wince, holler, laugh, cheer and clap during the same film.

Ji-woon Kim is a certified chameleon at this point in his career. Following mercurial ghost story A Tale of Two Sisters and epic western comedy The Good, The Bad, The Weird, Kim has shuffled genres again to try his hand at a morally murky serial killer revenge torture picture.

Byung-hun Lee (the Bad, in The Good, The Bad, The Weird) portrays a grief-stricken security agent hell-bent on tracking down and punishing his wife's murder after parts of her mutilated body are found in a river. The director spends a bit of time with this first victim, establishing a sweet, doting relationship in just a few beats of a phone conversation with her husband. That we witness her grisly murder sets up an emotional connection to Lee's grief, made palpable by one of many great moments in his performance.

Where most films would simply follow the vengeance-seeking husband, Kim casts the formidable Min-sik Choi (Oldboy) as the sadistic psycho, who we see right from the opening scene, and follow in as much, or more, detail as the hero. The very concept of heroism is darkly scrutinized, crossing into vigilante revenge and the toll associated with acting monstrous in order to punish a monster. It's a film as darkly funny as it is morbidly beautiful, at times. It's also brutal and merciless in its promises of escalating violence as the two men try to one up each other's pain, leaving Kim the task of making the audience squirm more with each exchange.

At nearly two-and-a-half hours, I Saw the Devil should feel long but doesn't. There's nary a spare moment where tension isn't being built and released then pulled taut anew, often to disturbing, nauseating new heights. If a perfect companion to Chan-wook Park's Vengeance trilogy perks your sadistic streak, set your sights on this Devil. (Peppermint)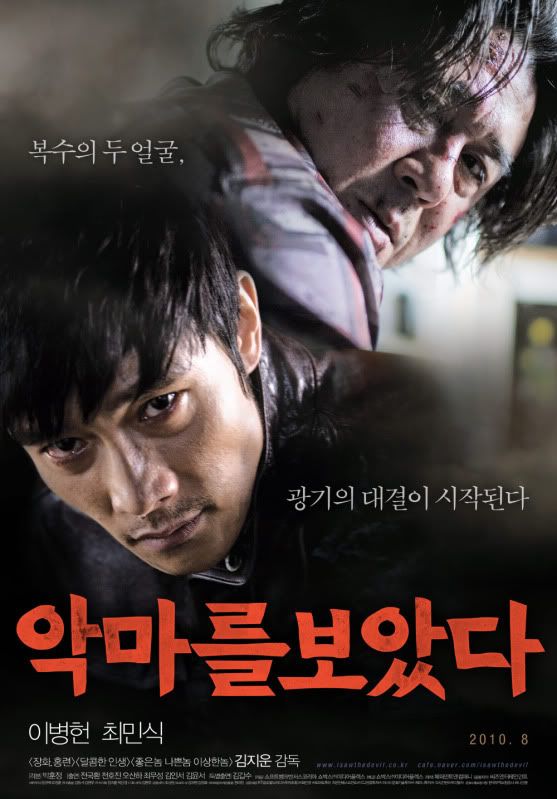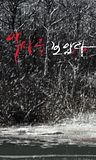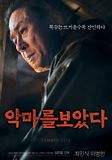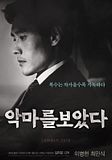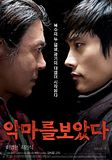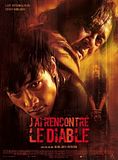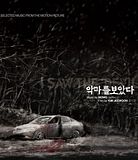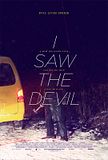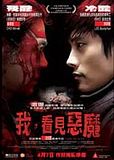 Cast & Character
Thanks to the fan highlight at GBW cafe.daum 6090

Lee Byung Hun - Soo Hyun (NIS Agent)



Choi Min Sik - Kyung Chul (Psychopath)



Oh San Ha - Joo Yun (Soo Hyun's fiancee)



Jeon Kuk Hwan - Det. Jang (Joo Yun's father)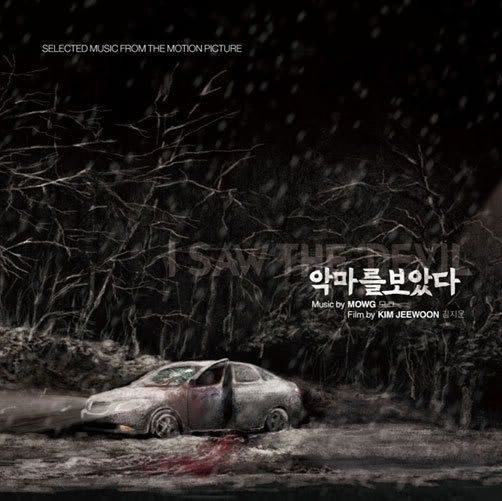 IN ONE NIGHT
EVERYTHING HE LOVED
WAS TAKEN FROM HIM
NOW, CONFRONTED BY PURE EVIL
HE'S NOT GETTING EVEN
HE'S JUST GETTING STARTED

YOUR NIGHTMARE'S ONLY GETTING WORSE