July 15, 2008

Warner Brothers Officially Developing Lost Planet Movie
by Alex Billington firstshowing.net




Capcom has been selling off numerous of its video game franchises, the latest of which is Lost Planet, the Xbox 360 game that hit shelves last year. Warner Brothers has hired David Hayter, aka the voice of Solid Snake and screenwriter on X-Men, X2, and the upcoming Watchmen, to pen the script. Ex-Marvel exec Avi Arad is producing with Ari Arad and Steven Paul. No director has been attached yet and the project is only in the early development stages, so we can expect release most likely by 2010. Lost Planet revolves around an expedition to an ice planet that harbors an energy source with the potential to save mankind. In it, the lead character Wayne Holden must fight off all sorts of giant nasty bug-like alien creatures.

Capcom also has adaptations of Street Fighter and Onimusha in the works in addition to continuing on the successful Resident Evil series. The video game developer is "becoming an increasingly active participant" in adaptations of it games, which I think is definitely a good thing - considering Uwe Boll ruined the genre. Although the story in the game wasn't too impressive, I always thought it had the perfect atmosphere for a movie. I think the potential for this is best described by one of my gamer friends: it will probably turn out like Starship Troopers but on a frozen ice planet. And considering I love Starship Troopers, if that's true, I'm all for it. I'd love to see this turn out badass, so let's hope Hayter's script attracts the right directors.

July 15, 2008

"Lost Planet" Movie Confirmed
Posted by Allan Ford filmofilia.com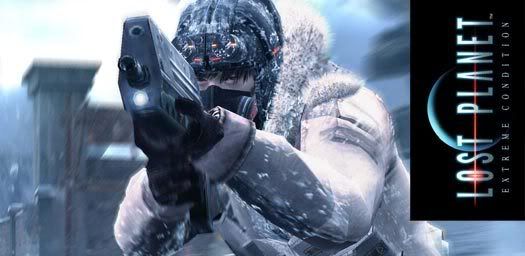 With "Street Fighter" and "Resident Evil" already being a franchise of films, there have been hints of a "Lost Planet" film on the horizon, based on Capcom's best selling 2006 property reports Variety.

Released early last year, the game has sold more than 2 million copies and revolves around an expedition to an ice planet that harbors an energy source with the potential to save mankind.

David Hayter ("Watchmen") will pen the screenplay and Avi Arad, Ari Arad and Steven Paul will produce through Seaside Entertainment.

July 17, 2008

E3 2008: Capcom's big announcement was ... a movie
By Terri Schwartz blastmagazine.com

LOS ANGELES — While it wasn't Golden Sun 3, Capcom's big surprise announcement certainly knocked the socks off quite a few gamers. During their press conference Tuesday, Capcom and Warner Bros. announced that they were going to create a live-action Lost Planet movie, set to release sometime in 2011.

No actors or directors or stuntmen have been recruited to the project yet. The film remains in the very early stages of its development. Writer David Hayter (Watchmen, X2) and father and son producers Avi and Ari Arad (behind The Incredible Hulk and Iron Man) are more than excited to be a part of the film.

They didn't give us much, but it's something to look forward to. It's interesting that the most surprising announcement at one of the premiere video game conventions was the release of a movie.

E3 2008: We Called It; Lost Planet Movie Confirmed
Lost Planet is indeed on its way; David Hayter set to pen the script
By Kat Bailey, 07/11/2008 Original article by Steve Watts 1up.com




ORIGINAL: We've recently been privy to juicy scuttlebutt that suggests the Lost Planet movie adaptation will be coming in 2011. Details on the rumored project have been few and far between, but our sources say that Warner Bros. will indeed be the distributor, with Capcom and Seaside Entertainment co-producing.

We had previously heard that David Hayter (of Metal Gear Solid series fame) was in talks to write the screenplay for Warner Bros., so further word that the WB will handle distribution seems to add credence to the rumor. But even with Hayter potentially behind the script, will Lost Planet fans still be anticipating the movie three years from now? Perhaps a well-timed sequel could help....

UPDATE: It looks like we called it! Variety reports that Capcom will indeed unveil Lost Planet at E3, with Hayter set to write the screenplay. Hayter will work with Avi Arad and Ari Arad as well as Steven Paul of Seaside Films to develop the film.

Capcom has been active in Hollywood recently, with Lost Planet joining other films based on Street Fighter, Resident Evil, and Onimusha. No release date has been announced, but with financing still being finalized, it's not a stretch to imagine that this film will indeed be out sometime in 2011. Stay tuned for more details from Capcom's event later today.

E3 2008 -- the game industry's biggest convention (arguably) -- is happening all this week! Check out E3.1UP.COM for news, previews, podcasts, videos, blogs, and more direct from the Los Angeles Convention Center.