EverythingLBH.com thanks every fan-sharing ardently with our utmost gratitude
Related movie and event captures from various media-portals & fan-sharing at EverythingLBH

Check out more photos compiled at our Gallery 1 / 2 / 3 / 4 / 5 / 6 / 7
A Bittersweet Life 달콤한 인생 2005
Acclaimed Action Noir, Dalkomhan Insaeng
Sun-woo: One late autumn night, the disciple awoke crying. So the master asked the disciple, "Did you have a nightmare?" "No." "Did you have a sad dream?" "No," said the disciple. "I had a sweet dream." "Then why are you crying so sadly?" The disciple wiped his tears away and quietly answered, "Because the dream I had can't come true."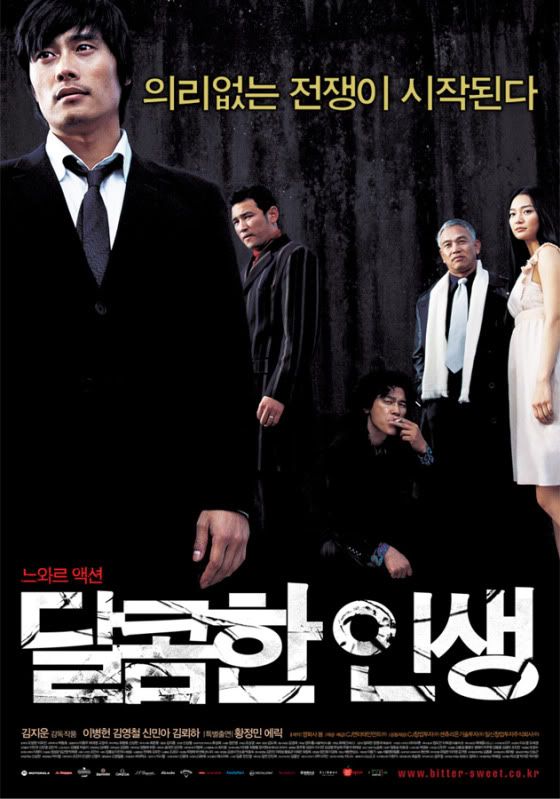 Director: Kim Jee Woon
Starring: Lee Byung Hun, Kim Young Chul, Shin Min Ah, Hwang Jung Min, Kim Roi Ha, Jin Goo, Eric Mun, Oh Dal Soo, Kim Han, Oh Kwang Rok, Jeong Yoo Mi
Screenplay: Kim Jee Woon
Info: www.kmdb.or.kr
Related links
imdb l Official website
recommended
l wikipedia l CINE21 l lovehkfilm.com l hamcinema.net l amazon.com l yesasia.com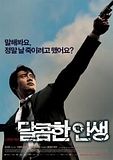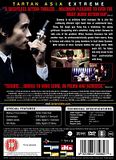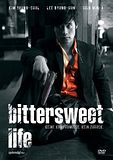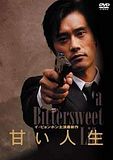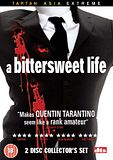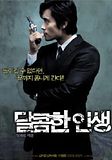 YesAsia Editorial Description

From Kim Ji Woon, the director of The Good, The Bad, The Weird and A Tale of Two Sisters, comes the stylish, ultraviolent gangster flick, A Bittersweet Life! Lee Byung Hun (Joint Security Area) stars as Sun Woo, a unique character with a curious lifestyle – he's not only a valued gang member and the proprietor of a hotel bar, but also the right-hand man to the powerful gang leader, Mr. Kang (Kim Young Chul). When Kang suspects that his beautiful young mistress Hee Soo (Shin Min Ah, Volcano High) might be messing around with another man, he enlists Sun Woo's help to resolve the matter, commanding him to follow her around to see what information he can dig up. Sun Woo's orders are explicit: if he catches Hee Soo cheating, he is to execute her – no ifs ands or buts about it. However, when Sun Woo spies Hee Soo with her boyfriend, he makes a stunning decision, one that will have major consequences for all involved!

Although the hit film Crying Fist barely edged it out for the top spot at the box office, A Bittersweet Life is a success in its own right, hailed by critics as a dazzling neo-noir thriller, chocked full of breathtaking cinematography, intriguing characters, and an ample dosage of violence just for good measure. In addition, Lee Byung Hun is earning critical raves for his performance as Sun Woo, a super-cool hitman with motivations all his own. But in the end, will Sun Woo make it out alive? Find out in A Bittersweet Life, a film that highlights the shadowy underbelly of Korean society, a place where the streets are dark with something more than night.


Review by Darcy Paquet

A Bittersweet Life opens with a gorgeous black and white image of a willow tree tossing in the breeze. As color slowly starts to bleed into the frame, we hear a voiceover by the main character Sun-woo: "On a clear spring day, a disciple looked at some branches blowing in the wind, and asked, '
Master, is it the branches that are moving, or the wind?' Without even looking to where his pupil was pointing, the teacher smiled and said, 'That which moves is neither the branches nor the wind, it is your heart and mind
.'"

Sun-woo (Lee Byung-heon) is a man whose heart and mind remain closed to wind, rain, or disruptive emotions. For the past seven years he has served his gangster boss with unflinching exactitude. He manages an upscale bar called La Dolce Vita (which echoes the film's original Korean title), and he despatches people who get in the boss's way with skill and efficiency. The boss (Kim Young-cheol) trusts him so much that he asks Sun-woo to look after his mistress (Shin Min-ah), and to kill her if she is being unfaithful.

A Bittersweet Life posits what might happen if, after all those years, a frozen pysche such as Sun-woo's should suddenly start to melt. This would seem at first to be an overly romantic notion to throw into a Korean-style noir film, where the violence is gut-wrenching and the hero feels no qualms about putting his gun to a man's forehead and pulling the trigger. But the emotions that seep into Sun-woo's mind unleash a recklessness in him, that will later transform into fury once he senses that he has been betrayed.

The familiar stylistic traits of director Kim Jee-woon, seen before in A Tale of Two Sisters (2003), The Foul King (2000), and The Quiet Family (1998), can be spotted here in abundance, and yet he has never made a movie quite like this one. It feels nihilistic at times, and as in Old Boy -- which will surely be compared to this film countless times -- the violence is strong and innovative enough to become a topic of conversation. Mixed in with the cruelty is a bit of absurd, black humor in the middle reels, but not enough to lessen the heavy feel of the work as a whole. The end result is a visually stylish, cool film that is both very commercial (even though it underperformed in both Korea and Japan), and also complex enough to make it hard to pin down.

One way to approach this film is to simply revel in the details. I love the way Lee Byung-heon savors the last bites of his dessert before going downstairs to beat the pulp out of some rival gangsters who have wondered onto his turf. Perhaps in defiance of Korean critics who, after watching A Tale of Two Sisters, accused Kim of having a foot fetish, the director introduces his striking lead actress Shin Min-ah with a huge shot of her bare feet. I love the way Shin Min-ah's home is decorated (production designer Ryu Seong-hee is Korea's most famous; she also worked on Memories of Murder and Old Boy). And finally, I love the ending, even if I can't speak about it here. If the ending of A Tale of Two Sisters disappoints, the final shots of this film make up a sweet, indelible set of images.
(
Darcy Paquet
koreanfilm.org)


Lee Byung-Hun plays a hard-boiled gangster who gets a glimpse of a better life in this stylish, ultra-violent, and strangely lyrical example of neo-noir from director Kim Jee-Woon. This breathtaking revenge fantasy may seem a bit hollow at times, but the poetic, heart-breaking finale justifies everything that precedes it. Simply put, it's an excellent film.


Review by Calvin McMillin
(lovehkfilm.com)
)
Revenge has never looked as good as it does in A Bittersweet Life, a dazzling neo-noir gangster film from Kim Jee-Woon, director of The Foul King and A Tale of Two Sisters. Lee Byung-Hun, star of Everybody Has Secrets and Joint Security Area, takes on a new kind of role as Sun-Woo, a glum, impeccably dressed enforcer in the employ of a notorious gang leader named Kang (Kim Yeong-Chul). The plot kicks in when the boss asks Sun-Woo to watch over his mistress Hee-Soo (Sin Min-Ah, from Volcano High) to find out if she's having an affair. Sun-Woo's orders are clear: if he catches her cheating on Kang with another man, he is to contact Kang immediately or finish them off himself.

However, when Sun-Woo discovers Hee-Soo with her boyfriend, he chooses to let both of them live. Unfortunately, this gesture of goodwill brings a world of pain onto Sun-Woo as the entire criminal organization sets its sights on punishing him for his act of "betrayal." Bloodied and beaten, Sun-Woo survives the ordeal, eventually embarking on a brutal, bloody trail of vengeance from which no one seems likely to survive. But the strange fact remains: Sun-Woo had been Kang's faithful servant for years, why would he suddenly have a change of heart now? Out of love? Or something more complicated?

Blending the hardboiled cool of classic film noir with the hyper-stylized action of a John Woo film, A Bittersweet Life is a beautiful, wholly engaging cinematic experience. Before Sun-Woo decides to ignore his boss's orders we watch as he slowly comes to an epiphany. However, we're not quite privy to the depth of this realization until the final scene of the film, in which everything that has come before soon makes simple, perfect sense. Once Sun-Woo goes against Kang, the film becomes a visceral, balls-to-the-wall action film as the carnage comes full-force. As far as cinema revenge fantasies, it's not a stretch at all to say that A Bittersweet Life can stand alongside the best of them.

As brutally violent as the film is, it's refreshing to know that the filmmakers retained their sense of humor. Interestingly enough, the film contains a variety of surprisingly comic moments interspersed throughout all the guts and gore. Oddly, A Bittersweet Life can be a remarkably funny film at times.

Anchoring the entire picture is Lee Byung-Hun, who does a fine job inhabiting the role of the enforcer-turned-romantic-turned-unstoppable killing machine. Although Lee's winning good looks certainly add to Sun-Woo's character, he's more than just a pretty face. The actor brings a certain amount of depth to his anti-hero character, which is quite an achievement considering that a fully-realized characterization of Sun-Woo is hampered by the fact that his motivations must not be revealed until the film's ending. Even so, Lee does convey a sense of Sun-Woo's internal life, even if it is something not made readily apparent by the script itself.

The cinematography, costumes, set design, and soundtrack make A Bittersweet Life a visual and aural feast for its audience. Beautiful as it is, it's not hard to see how people might find the proceedings a little superficial. Thankfully, that actually seems to be based on how the film is constructed, as everything is meant to build towards the film's conclusion in which the real meaning behind Sun-Woo's quest for revenge is revealed. Visceral, lyrical, and sometimes even comical, A Bittersweet Life is a complete cinematic experience and contains an ending that brings everything to a suitably bittersweet close. In short, it's a terrific motion picture. (Calvin McMillin, 2005)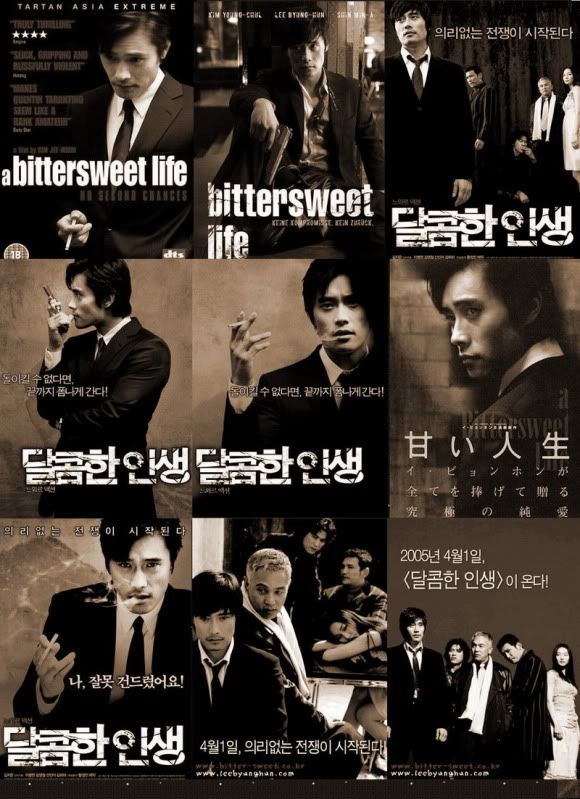 Film Festivals & Awards


58th Festival de Cannes
(May 15th, 2005) - Out of Competition


The 38th Edition Sitges Festival
(Oct 9-18th, 2005)
Best Original Soundtrack - Dalpalan and Jang Yeong-gyu


25th Hawaii International Film Festival
(Oct 20-30th, 2005)


26th Blue Dragon Awards
(Nov 29th, 2005)
Best Cinematography - Kim Ji Yong


4th Annual Korean Film Awards
(Dec 5th, 2005)
Best Supporting Actor - Hwang Jung Min


25th Korean Critics Awards
(Dec 12th, 2005)
Top 10 films of 2005
Best Actor - Lee Byung Hun
Best Music Dalparan, Jang Young-Gyu


13th Chunsa Film Art Awards
(Dec 15th, 2005)
Best Actor - Lee Byung Hun


42nd Baeksang Arts Awards
(April 14th, 2006)
Best Actor - Lee Byung Hun


The Deauville Asian Film Festival 2006

Best Action Film "Action Asia" Prize - Dir. Kim Jee Woon


A Bittersweet Life - Trailer
A Bittersweet Life MV directed by Lee Byung Hun
A Bittersweet Life - Set The Fire To The Third Bar